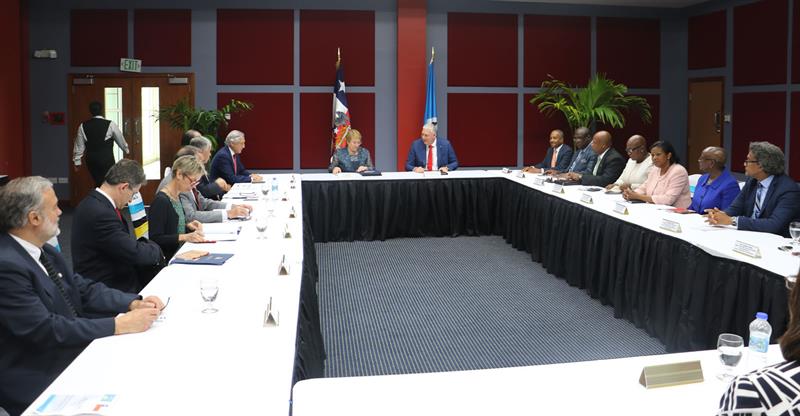 President of the Republic of Chile, Ms. Michelle Bachelet and Prime Minister Honourable Allen Chastanet have both spoken on the success of the Official State Visit to Saint Lucia from August 24th to 25th 2017. During the visit President Bachelet had an extensive agenda which included meeting with the island's Governor General, Her Excellency Dame Pearlette Louisy, the Honourable Members of the House of Parliament and the Cabinet of Ministers.
At a press briefing following the meeting with the Cabinet of Ministers, Prime Minister Chastanet stated that it was an incredible pleasure hosting the President and her contingent in Saint Lucia adding that the two nations have had common experiences. The two leaders signed a Joint Declaration pledging deeper ties in specific areas. The Chile President, who is passionate about women's issues, also announced her country's contribution of US$100,000 towards an entrepreneurial fund for local women.
In thanking Chile, Prime Minister Chastanet said: "We have spoken about women's affairs and I want to publicly say thank you very much to the Government of Chile through you, Madame President, for having agreed to contribute US$100,000 towards building the skills of women, particularly in the entrepreneurial area. This is obviously something that is very dear to our hearts in Cabinet and I just want to say on behalf of all the women in the Cabinet, thank you, and also from the women in Saint Lucia who are going to benefit from this programme."
Prime Minister Chastanet explained to the media that Chile and Saint Lucia had also discussed matters as it relates to Climate Change adaptation and exciting new prospects for trade.
"Sometimes we think it is going to be one way in terms of us just getting products from Chile but because of our geographic location and some of the trade agreements that we currently have, we believe that there are also opportunities for our manufacturers in the country," stated the Prime Minister.
Prime Minister Chastanet was equally elated about the potential assistance for local agriculture and the prospect of working with experts from Chile.
"Thank you very much for sharing all of those things and I am looking forward to a very long lasting relationship."
For her part President Bachelet, who arrived here with key Chile Government Ministers and Latin American media, described the visit as a historic one and said it reflected on the importance Chile places on relations with Saint Lucia and the Caribbean.
"Chile and Saint Lucia share many points of view on issues of interest for our countries both bilaterally and at the regional and international levels," Her Excellency noted. "I would like to emphasize the commitment of both countries to fundamental values such as respect for democracy, human rights, rule of law and concern for the environment. Even though we are the southern-most country in Latin America and you are here in the Caribbean Sea, we do share our concern about the ocean and seas. We do have our concerns about Climate Change. We do want to exchange all these experiences with our friends and partners. In that sense we have been working bilaterally with Saint Lucia but also in the context of Caricom and the OECS. We will continue working on focusing on areas such as poverty eradication, agriculture and the food sector, disaster management, adaptation to Climate Change and strengthening good practices in the private sector."
Regarding areas of trade the President said that Saint Lucia and Chile had complementing economies.
"We don't have the kind of things that you produce here. Many of them we don't produce in Chile, so we are not adversaries; we can work together. I can imagine Chileans would love to have the possibility of consuming fantastic shrimp, lobsters and of course bananas. And do we do not produce any of those so we can improve and enhance our possibilities through trade."
Saint Lucia first established diplomatic relations with the Republic of Chile in 1991. Two ministers of Government are expected to visit Chile soon to continue discussions on areas of cooperation.